Spiritual hygiene such as cleansings was given an introduction in a previous blogpost.
As well another blogpost covered how the dead can affect a living persons physical health.
Looking at the liver of a sacrificed or animal killed to divine a physical illness, often the entrails or gut and liver of the animal was looked at. This often would show negative energy removed from a person or divinatory information. Likewise the gut, liver and intestines of a person are often affected by negative energy.
Bowels have been related metaphorically to lower realms or "hell" where there is the stench of sulfur, feces/excrement and to lower energetic frequency.
The other area is the bones and teeth related to saturnine aspects of the dead, the material and death...a skeleton.
Omens such as dreaming of teeth falling out is said to portend a death in the family.
The mouth and teeth are related to digestion and our ability to nourish ourself for health and life to eat to take in energy. If we do not eat we do not live and will waste away as if something was feeding on our energy. As well as to express and defend ourself "tooth and nail". We may not be literally biting people but if we look at symbolism and how that plays out on energetic realms such as with totems and the use of animal parts in folk magic such as horn and fang in protection and warrior traditions, it also relates to being a human/animal in warfare or fight and flight.
With divination in the ATRS (african religions) many refresh their shells used for divination with coconut water and cleanse the instruments with cigar smoke. The devices are instructed that the mouths of the shells, or tarot cards used
speak truthfully and accurately
. This is done in some Yoruban faiths because misfortune causes the divination devices to be inaccurate unless they are cleansed. One Espiritismo Cruzado prayer of tobacco, asks that
may the spirits that speak through the sacred smoke of this tobacco... and through the spiritual fluids communicate as such with purity
.
In Palo, a communal drink of chamba is used for several reasons. One being practical to decrease illness by cleansing the mouth, sickness believed to be caused by bad spirits. The drink contains antimicrobial substances like alcohol/rum steeped with ingredients such as hot peppers, ginger and garlic. Some recipes contain bone powder and sticks from different species and is made or human consumption or for feeding items and spirits only. It is buried in the earth, a tomb to absorb the energies of the universe and the ground. Chamba again has many applications, but it is believed the dead can cause cavities and residue from their energy can rot inside holes in the teeth. Coconut products were also possibly used as daily routine in personal care, such as with oil pulling in the mouth which is spat out after swishing for minutes.
Despite not having modern dentistry many areas of the world with tropical climates did not have as many dental problems as we see in modern cities. Natural products like these were used in traditional medicines and preventative remedies....
Still, it is a good idea to be up on your regular care and appointments.
Chamba drink is swallowed and is also a form of internal cleansing against witchcraft affecting the body, or if injested in our food that someone laced with witchcraft. In days of slavery poisons, insects, dirts etc were often put in rivals and slavemasters food and drink. Popular today is a love spell where women put heir menstral blood in their mens food like spaghetti sauce to try to dominate them and ensure fidelity. So be careful about who you accept food and gifts from! This is why some will not accept or have prohibitions on leaving drinks around especially dark drinks that can mask what people have put in.
My post on Mama Juana describes a Caribbean native medicinal drink made to also cleanse the body of witchcraft as well as detox the gut, liver and gallbladder area, and can help many disease process. Detox of the body is a good idea in general to help elevate your energy, increase spiritual faculties and health.
You can also do this with coffee fixed how you like or dandelion root tea sweetened with honey, as it is bitters and a digestive tract cleanse. It is dark in color and therefore is good for "banishing" or cleansing. Speak and pray over it to intend to cleanse your digestive intestinal organs and body, to remove any negativity, sorcery, witchcraft and stagnation before drinking. To make a ritual of it light a white tea light candle along with your beverage.
Myself I spray rum with my mouth to clean areas and feed and connect with spirits and use my energy, there is a great supply of personal power of Ashe upon the saliva. But also make a point to brush my teeth before misa or when I know I will be speaking during spiritual readings so that I too may speak via spirit and work cleanly and speak accurately to remove obstacles to our work.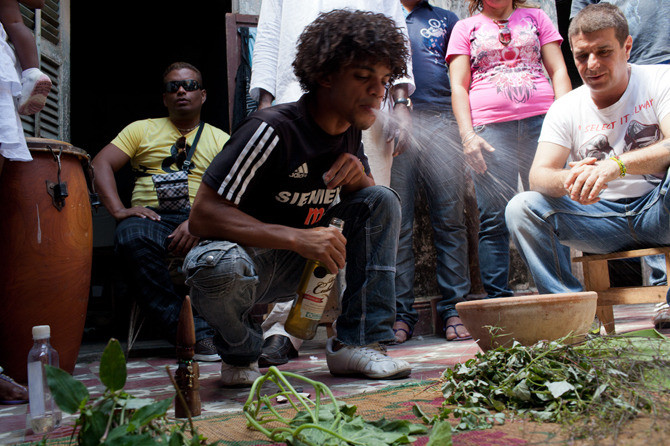 The mouth is a gateway or portal. The holy spirit and gift of tongues are mentioned many times in the bible, and about the mouth of God, and even in genesis how the spoken word leads to creation or manifestation from the spiritual to the physical world. The mouth is an opening and energy center of the body, blood circulation under the tongue supplies ready energy to the breath, along with the lungs during speech to create a vibrational current, and in the use of breath in spiritual works to charge and awaken such as blowing Vodou powders to the 4 winds.
For what is the language of the birds? It is not literally understanding a bird chirping..hahaha
It is to speak and communicate with spirit(s). And there are much deeper secrets than these.
Mar 16:17
And these signs shall follow them that believe; In my name shall they cast out devils; they shall speak with new tongues;
Act 2:3
And there appeared unto them cloven tongues like as of fire, and it sat upon each of them

.
Act 2:4
And they were all filled with the Holy Ghost, and began to speak with other tongues, as the Spirit gave them utterance

.
John 20:22
And when he had said this, he breathed on them,and saith unto them, Receive ye the Holy Ghost
:
I will also wash my hands if a bath for some reason was not performed with florida water.
There are certain Lwa who will not touch earth in their horses, nor interact with the community unless strict cleanliness has been observed.
Hope that these words have been illuminating for you,
until next time,
Sancista Siete Enruzhiladas